Watch the video below to know more details
PRODUCT DETAIL
The Seeker 3 Pro is an ultra-bright floodlight flashlight great for outdoor activities. Its 4 high-performance cool white LEDs boast an incredible max output of 4,200 lumens and a 250-meter beam distance. The newly adopted rotary knob switch on the head allows for smooth adjustment between brightness levels. Surrounding the rotary knob are the indicators to reveal the brightness and battery levels in real time. The built-in proximity and thermal sensors keep the light and nearby objects safe on higher settings. Continuing with its classic style, the Seeker 3 Pro is more powerful, way brighter, and packed with new refinements that make it one of the most well-designed pocket lights out there.
KEY FEATURE

⋙⋙ Seeker 3 Pro
⋙ Brightter and Smarter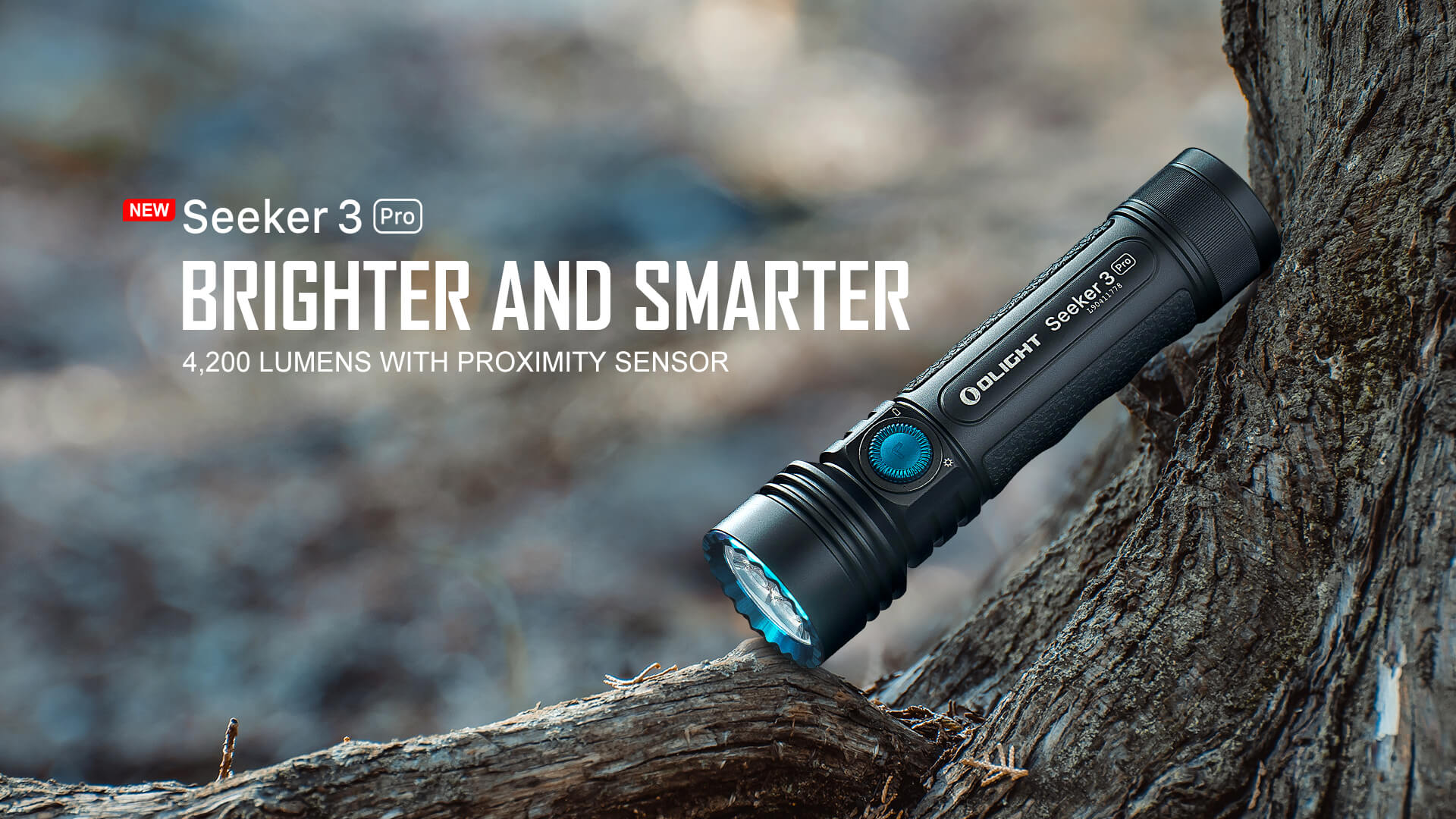 ⋙⋙ Dominate the Night
⋙ 4 high-performance LEDs that produce amazingly 4,200 lumens.
⋙⋙ Upgraded User Interface
⋙ Press the rotary knob to access 6 brightness or rotate it for stepless dimming. Read all with the simple indicator dashboard.
⋙⋙ Smart Lockout and Unlocking
⋙ Automatically locks out after 30 seconds of non-operation. To unlock, quickly rotate the knob switch over 90 degrees.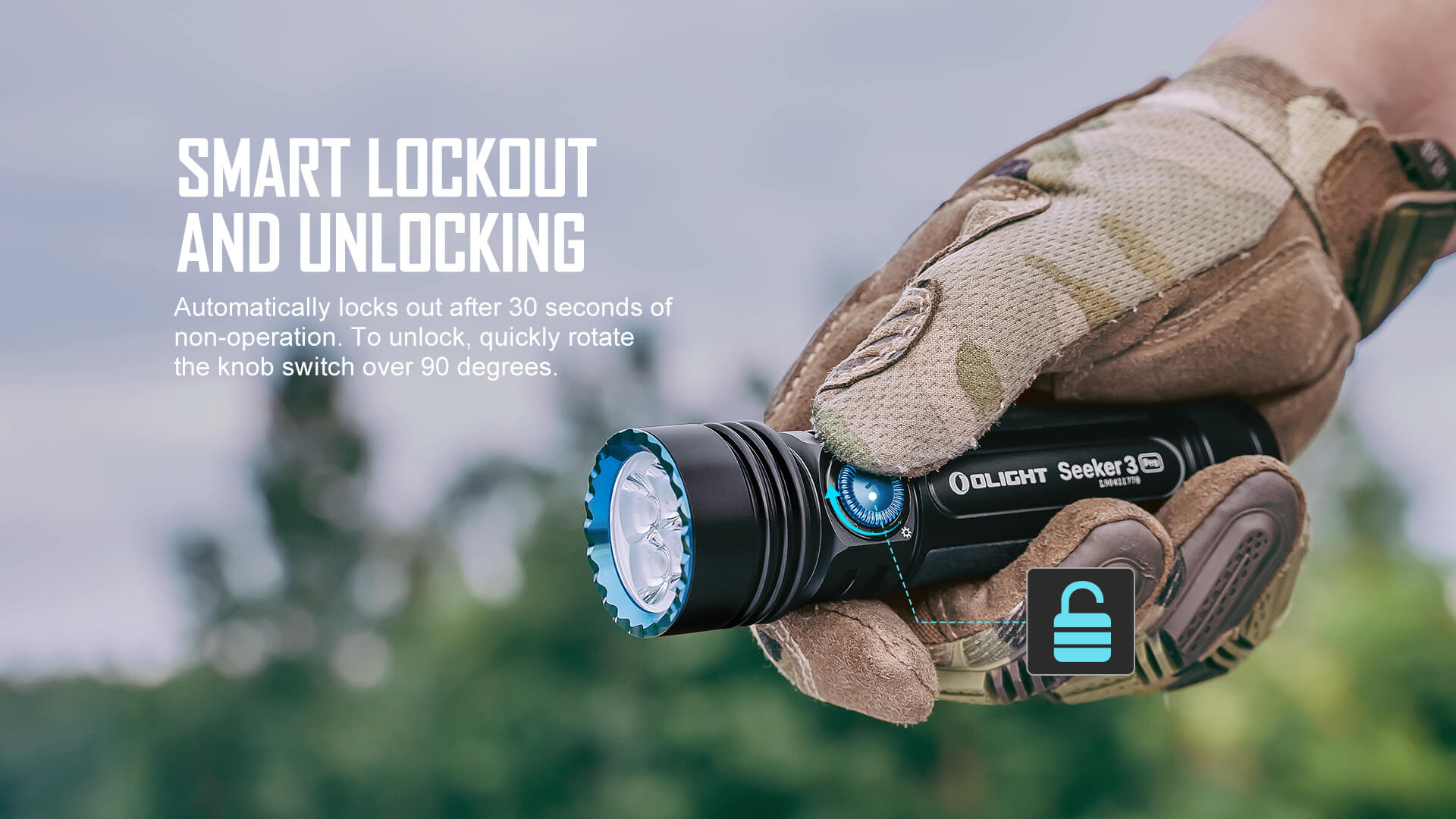 ⋙⋙ Power Beyond Its Size
⋙ A large-capacity customized 5000mAh rechargeable battery, ensuring a max runtime of 15 days.
⋙⋙ Convenient Magnetic Charging
⋙ MCC3 charging cable with a charging current up to 2A. Always ready to get back in the action.
⋙⋙ Specifaction
OLIGHT PROMISE
Beam Distance (m)
250 meters
Max. Performance (lumens)
4,200 lumens
Charge type
MCC3 magnetic charging cable
Max. Runtime (hours)
15 Days
Compatible Batteries
Customized 3.6V 5000mAh 21700 Lithium-ion Battery
Light Intensity (candela)
15,625cd
Light Source
4 x High Performance LED (6000~7000K)
Mode Operation
Side Switch
Form/Size Factor
Medium size (Permanent Marker)
LEVEL 1 (lumens)
4,200~1,200~600 lumens
Run-time LEVEL 1
2.5+127+35 minutes
LEVEL 2 (lumens)
1,200~600~300 lumens
Run-time LEVEL 2
135+35+10 minutes
LEVEL 3 (lumens)
300 lumens
Run-time LEVEL 3
640 minutes
LEVEL 4 (lumens)
50 lumens
Run-time LEVEL 4
360 minutes
LEVEL 5 (lumens)
5 lumens
Technical Characteristics
Weight (g / oz)
7.06oz/200g (Including Battery)
Length (mm / in)
5.20in/132mm
Body Diameter (mm / in)
1.10in/28mm
Head Diameter (mm / in)
1.38in/35mm
Body Material
Aluminum Alloy
Use
Everyday Carry Outdoors Law Enforcement
①
Seeker 3 Pro (Battery Included) x 1
②
MCC3 USB Magnetic Charging Cable x 1
| File Name | Size | Link |
| --- | --- | --- |
| Seeker 3 Pro User Manual.pdf | 1507KB | |