❄Christmas and New Year are coming, why not give yourself a chance to reward yourself and show love to those who have been with you for a long time this year.❄
---
UP TO 50% OFF!
Available at 8:00 PM 13/12 - 10:00 AM 18/12

Recommanded Offers
Seeker 2 pro - Up to 50% Off
3,200LUMENS|250METERS
The Seeker 2 pro is a powerful, rechargeable side-switch LED flashlight. Powered by a single, maximum capacity, (5000mAh) 21700 customized lithium rechargeable battery, that helps this light deliver a maximum output of 3200 lumens. It uses high-quality LEDs paired with a TIR optic lens, providing a perfect medium and close-range illumination experience.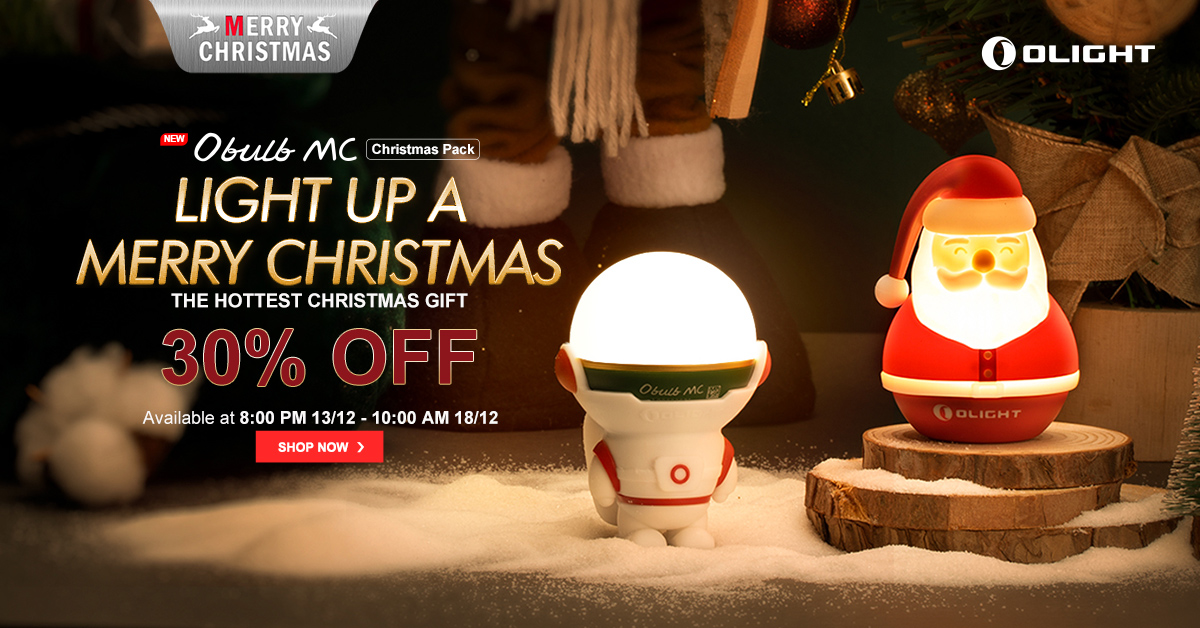 Christmas Pack - Up to 40% Off
Obulb MC/Obuddy/Red Santa
The Red Santa Cover and Obuddy, together with Obulb MC red or green , will spread lots of Christmas cheer, great to use as festival ornament. 7 colors are condensed into 8 modes to play with. White, red, green, blue, color fantasy. Perfect for Christmas! Have more fun during the holidays with some light!
Baton 3 Kit - Up to 40% Off
1200lumens|166meters
The Baton 3 Premium Edition is the perfect do-it-all compact flashlight kit. Including the new 1,200 lumens powerful Baton 3 and portable wireless charger, never worry about battery life again! The Baton 3 is the brand new upgraded version of our most popular pocket flashlight, the S1R Baton II. Equipped with a high performance LED and TIR lens, this extremely compact light delivers an incredible maximum output of 1,200 lumens and 166-meter beam distance. The tailor-made charging case includes a built-in 500mAh18650 battery, allowing you to fully charge the Baton 3 up to 3.7 times. With upgraded performance and an included charging case,the new Baton 3 Premium Edition is the perfect flashlight companion everywhere you go.
Fashionable and lightweight, it is the best choice for urban white-collar workers.
BFL 1800 - Up to 30% Off
1800lumens|210meters
The BFL 1800 is an incredibly bright front bike light featuring a long-distance beam. It projects a focused, even beam with up to 1,800 lumens of output and a 210-meter max beam distance. The light window on each side of the light body enhances peripheral visibility to always stay safe. The built-in 5000mAh rechargeable battery achieves up to 8.5 hours of runtime. The light has 3 output settings that can be accessed with the side switch, and the setting used previously will be memorized. Integrated with the side switch is a convenient battery indicator so you always know when to charge. This 102mm (4.02in) long bike light is also equipped with a bike mount and 4 straps that will fit most handlebars when using the correct length strap. The push-lock mechanism allows you to mount the light or detach it easily. Powerful and reliable, the BFL 1800 is perfect for daily commuting, urban riding, road cycling, and mountain biking.
i1R 2 Pro - Up to 30% Off
180lumens|48meters
The i1R 2 Pro is the upgraded version of i1R 2 EOS, Olight's popular rechargeable keychain flashlight. The high-performance CSP (chip scale package) LED, paired with a TIR optic lens, generates a soft, well-balanced beam of 5 lumens or 180 lumens. Users can turn the light on/off and switch outputs with a simple twist of the head. Powered by a larger built-in 130mAh Lithium-ion battery, it runs up to 12 hours. The flashlight adopts the new USB-C port instead of the old Micro-USB port, whichmakes charging easier. The aluminum alloy body makes this small light extremely durable. Only 51.3mm/2.02in long with a weight of only 22g/0.78oz, it is the perfect addition to your keychain.
Odin GL M - Up to 40% Off
1500lumens|215meters
The Odin GL M is a brand new WML designed for long setups which combines a high-lumen white light and an intense GL beam for maximum accuracy. The powerful white light delivers up to 1,500 lumens and a beam distance of 215 meters. The GL beam (20-meter focal length) is clearly visible in the dark and even during the daytime. By twisting the selector ring on the light's head, you can select white light, GL beam, or both combined. The Odin GL M inherits many of the great features from the Odin series including the vibration battery indicator, silent metal tail switch, customized 5000mAh 21700 battery, USB magnetic charging, and even more. The M-LOK rail mount allows for secure installation and the lockable magnetic remote switch enables quick momentary/constant on. Its aircraft-grade aluminum body and well-tested structure achieve a 1.5-meter drop resistance and IPX4 waterproof rating. With the added GL beam, the Odin GL M keeps you on target even during stressful situations.
Warrior Mini 2 - Up to 45% Off
1750lumens|220meters
The Warrior Mini 2 is the brand-new upgraded version of the previous Warrior Mini, and one of the most powerful compact tactical
lights on the market. It produces an astounding max output of 1,750 lumens and 220-meter beam distance despite its pocketable size.Its newly adopted proximity sensor drops the brightness level proactively in case of obstruction. As the successor of Warrior Mini, this flashlight still features a side switch for daily use and a tail switch for tactical operation. The three-level battery indicator tells the battery level and when to charge, and the customized 3500mAh 18650 battery charges with the MCC3 magnetic charging cable. In addition, the included carabiner-style ring (not for climbing) is added for enhanced portability. Compared to its predecessor, the Warrior Mini 2 is more secure, way brighter, and packed with new refinements that make it one of the most well designed tactical pocket lights out there.
Obuddy - Up to 30% Off
It is a new edition of Obuddy, magnetic charging stand and base from Obulb series.
Obulb + Obuddy, is the perfect Christmas gift for your selection.
S2R Baton Ⅱ - Up to 40% Off
1150lumens|135meters
The S2R Baton II is the upgraded version of the popular S2R Baton predecessor. It has a compact build (5% shorter than S2R Baton) for easy grip and portability. The light can produce a maximum output of 1,150 lumens including an upgraded TIR lens that produces a perfectly balanced beam. It has several modes to choose from including three standard modes, turbo, moonlight, and strobe. The S2R Baton II features a battery indicator located on the side switch so you always know when to charge. It boasts a new MCC 1A magnetic charging system to ensure faster charging.The S2R II also features a dual direction pocket clip for enhanced everyday carry.
Its color matching is passionate, its shape is comfortable, let us express our love in Christmas.
New Accessories