PRODUCT DETAIL
The light window on each side of the light body enhances peripheral visibility to always stay safe. The built-in 5000mAh rechargeable battery achieves up to 8.5 hours of runtime. The light has 3 output settings that can be accessed with the side switch, and the setting used previously will be memorized. Integrated with the side switch is a convenient battery indicator so you always know when to charge. This 102mm (4.02in) long bike light is also equipped with a bike mount and 4 straps that will fit most handlebars when using the correct length strap. The push-lock mechanism allows you to mount the light or detach it easily. Powerful and reliable, the BFL 1800 is perfect for daily commuting, urban riding, road cycling, and mountain biking.
KEY FEATURE
⋙⋙ BFL 1800
⋙ Illuminate Your Cycling Adventure
⋙⋙ Ride with Confidence
⋙ The 27° beam angle provides an optimal balance between distance and range.
⋙⋙ Side Light Windows
⋙ Considerate light windows on both sides of the light body increase your visibility day or night.
⋙⋙ Compatible and Flexible
⋙ 4 straps included to suit different handlebars.
⋙⋙ Quick to Install and Release
⋙ The simple push-lock mechanism allows you to install or detach the light in seconds.
⋙⋙ Quick to Operate and Read Battery Level
⋙ A side switch gives you a quick and easy access to 3 brightness levels, It also integrates a dual-color battery indicator for easy reading.
⋙⋙ 8.5H Long Runtime
⋙ Up to 8.5 hours of runtime with a built-in 5000mAh 21700 battery. You will have ample light to get home.
⋙⋙ Convenient Magnetic Charging
⋙ Rechargable with the MCC1AL USB magnetic charging cable. Snap it on, and charging starts.
⋙⋙ Specification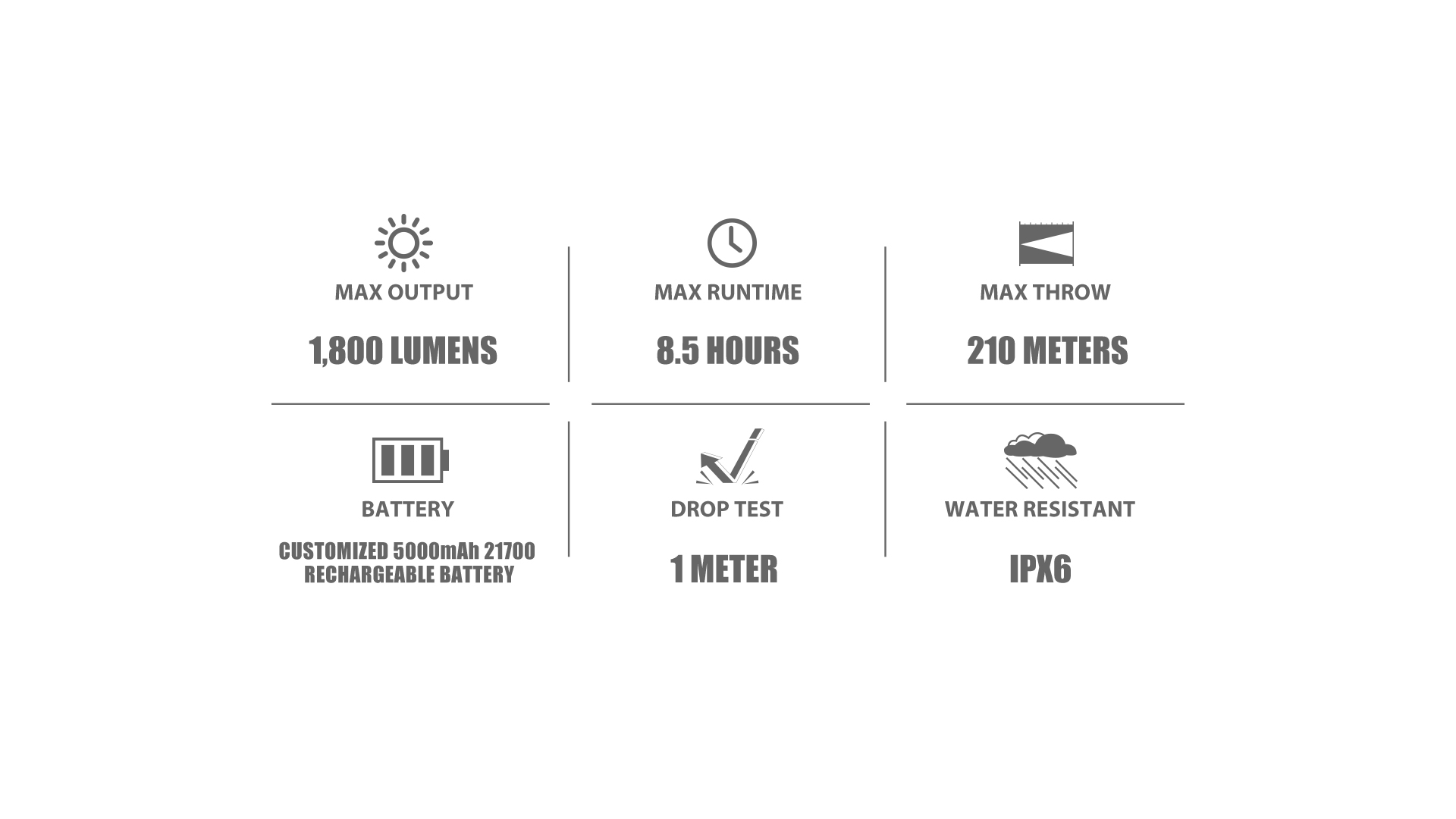 OLIGHT PROMISE
*Free Shipping for orders over S$67.13/RM214*
Max. Performance (lumens)
1,800 lumens
Charge type
MCC1AL USB Magnetic Charging Cable
Max. Runtime (hours)
8.5 hours
Compatible Batteries
Built-in 5000mAh 21700 Rechargeable Lithium-ion Battery
Light Intensity (candela)
3,600 cd
Light Source
High Performance Cool White LED
Mode Operation
Side Switch
Form/Size Factor
Medium Size
Technical Characteristics
Weight (g / oz)
5.71oz/162g (Including Battery)
Length (mm / in)
102mm/4.02in
Width (mm / in)
32mm/1.26in
Height (mm / in)
41.5mm/1.63in
Body Material
Aluminum Alloy Body
Use
Urban Riding, Daily Commuting, Road Cycling
①
BFL 1800 (Battery Built-in) x 1
⑤
MCC1AL USB Magnetic Charging Cable x 1